Taking Journalism Seriously: News and the Academy
Taking Journalism Seriously: News and the Academy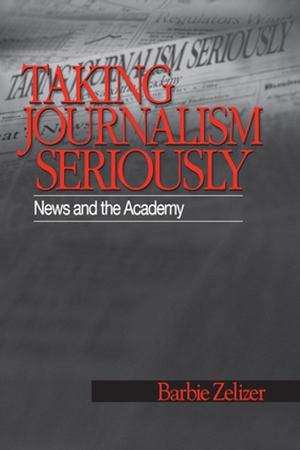 Barbie Zelizer
How have scholars tended to conceptualize news, newsmaking, journalism, journalists, and the news media? Which explanatory frames have they used to explore journalistic practice? From which fields of inquiry have they borrowed in shaping their assumptions about how journalism works? In Taking Journalism Seriously: News and the Academy, author Barbie Zelizer discusses questions about the viability of the field of journalism scholarship and examines journalism as a discipline, a profession, a practice, and a cultural phenomenon.
Taking Journalism Seriously argues that scholars have remained too entrenched within their own disciplinary areas resulting in isolated bodies of scholarship. This is the first book to critically survey journalism scholarship in one volume and organize it by disparate fields. The book reviews existing journalism research in such diverse fields as sociology, history, language studies, political science, and cultural analysis and dissects the most prevalent and understated research in each discipline.
The author provides a critical mapping of the field of journalism studies and encourages academics to look at journalism from various disciplinary perspectives. Taking Journalism Seriously advocates a realignment of the ways in which journalism has traditionally been conceptualized and urges scholars to think anew about what journalism is as well as reflect on why they see it as they do.
Taking Journalism Seriously is designed for undergraduate and graduate students in advanced courses on Journalism and Journalism Studies. It will also be of interest to scholars, academics, and researchers in the fields of Journalism, Communication, Media Studies, Sociology, and Cultural Studies.
ISBN 978-0-8039-7314-5